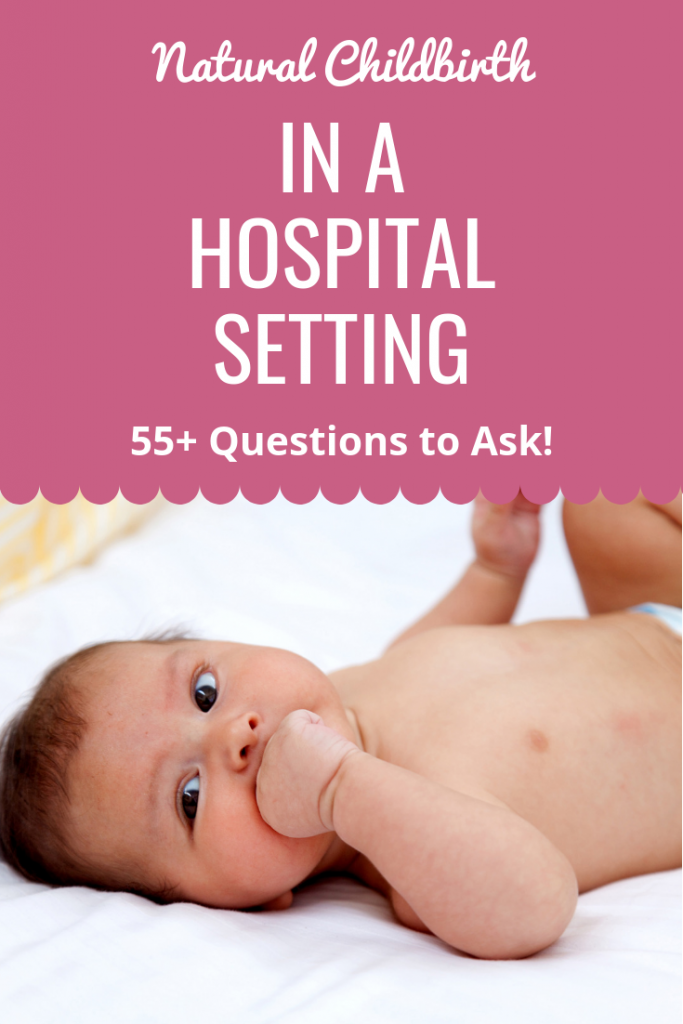 "Natural Childbirth" … Well that can only happen in a birth center or at a home-birth… Right?
It is often easy to come up with an extensive list of questions when you are considering a home birth with a Midwife. We tend to think long and hard about the questions we want to ask to make sure we can trust her with our safety and the safety of our baby. During a standard home-birth Midwife appointment, you often get a minimum of an hour to sit and "interview" with a prospective Midwife. There is time enough to get a feeling for one another, a sense of whether she will provide the kind of one-on-one care you desire for your natural birth at home. Then you get an hour with them at almost every single prenatal visit, as well. This adds up to a lot of one-on-one time between you and your care provider to be on the same page, to know and understand one another.
For many families though, a home birth is simply not an option. Whether it is for financial / insurance reasons or for a health concern that puts them just outside the qualifying spectrum of the Midwifery Model of Care. Regardless of the personal circumstance, many women who either choose or need to birth in a hospital still desire to have a "natural childbirth."
The kind of birth where there is no pressure to perform on a grid-line standard, and fit into a cookie-cutter diagram that has a one-size-fits-all approach. The kind of birth where they are free to listen to their bodies needs and respond to natural urges and do not need to feel stressed by the cascade of interventions which are routinely associated with a hospital birth.
Women do not often pause to consider what kinds of questions they would ask an OB or CNM, in the same way that they would ask a home birth Midwife. Women come up with a vast number of detailed and personal questions when "interviewing" for a Midwife, or even a Pediatrician for their baby, however, they do not usually do this when seeking care for themselves with an OBGYN. There is often this sense of, "this is what I am faced with, so I need to find a way to make the best of it." Unlike Midwifery Care, you are not afforded an hour of time with an OBGYN, or hospital staffed CNM. Most visits are generally anywhere from 5-15 minutes, on a good day. There just seems to be this "rush" factor, which often times, flows over into the delivery room.
There are many factors involved in the lack of communication
between an OB and an expectant mother
Many women become intimidated and shut down by the sometimes rushed and rigid demeanor of an OB
There is a sense that they went to school for this,
they know what they are doing, "so who am I to question that…?"
An OB might have a response to a question which makes the woman feel inferior
or demeaned for even asking such a question. Just to name a few …
These situations often lead to a sense of not having ones own valuable input into the birth of their baby, whereby holding them back from really digging in and asking the probing questions necessary to build the kind of relationship where mutual respect is involved and a foundation of working together on common ground. Sometimes the connection between the two is so limited that neither even knows where to begin. It becomes a tedious process of coming in – doing checks – and going out – see you next time. Understand that an OB meets with countless women from day to day. Whereas a home birth Midwife, has a specific number of clients she will take on in a given month. An OB will often deliver multiple babies per day, and a Midwife, usually between 2-6 per month. The job of an OB can easily become a job that reflects the business of providing medical care, rather than a passion of providing health care. This is not their fault, it is simply the way that society has set it in motion.
It is important to recognize which care providers do and do not have the qualities you are looking for. There are OB's out there who "trust birth" and have a great respect for the power within a woman's body to birth her baby. They do exist and the numbers of them are growing as awareness and education grows, but also because women are finally being heard. Women are standing up and demanding better care, demanding that doctors recognize that they are capable beyond measure, and that birth is not an illness or problem which needs to be controlled, managed or fixed… and that a woman who is having a vaginal birth does not need to have her baby "delivered" from her body.
So how does one really know whether
they have the right OBGYN or CNM for them?
~ Or ~
Where do you begin in finding
the care provider that is right for you?
One of the first steps is recognizing that you are never "stuck" with a specific care provider. You have a wealth of options and choices available to you! We are blessed to have a society full of highly intelligent Doctors, Midwives and CNM's, all of whom have individual qualities to meet the needs of each specific woman. You simply have to take the time to find what you are looking for.
Finding a Doula can be one of the best places to start! A Doula provides physical, emotional and informational support for women throughout their pregnancy, labor and birth, and into the postpartum, breastfeeding, and newborn care stage. A Doula also works with many different kinds of birth professionals, and in all different kinds of birth settings. It is one-on-one specialized care, at it's finest!
When it comes to your care provider…
A Doula Can:
– Help provide you with guidance in making sure your care provider is the right one to meet your birthing needs.
You may have been referred to a friends OBGYN, because they had the perfect experience that they desired with that care provider. Every woman's needs are different, and what is right for your friends, neighbors, church family, or sister, may not be the right fit for you.
Perhaps you have an amazing OBGYN for all of your gynecological needs, or maybe they even played a crucial role in helping you during the family planning stage. Some women find that while their care provider may be perfect for their gynecological needs, they are not necessarily the right care provider for their pregnancy and birthing needs.
– Help you in forming your desired birth plan, and giving you the words necessary to communicate effectively with your care provider about areas of your pregnancy and birth which are important to you.
Forming the right birth plan for you, means fully understanding all of the options which are available to you. A Doula has this knowledge base and they can be a wealth of knowledge about areas of birth that many have never even taken into consideration before. Some of them also teach their own childbirth education classes. If you have a Doula who teaches childbirth education classes, taking their class, rather than a hospital based class, can be helpful in many areas, including creating a closer bond prior to your birth.
Doula's also understand the language that surrounds pregnancy and birth. They are good at reading between the lines, and recognizing "red flags" that might suggest your care provider and you are not on the same page in a particular area so that you know to address that with them ahead of time, rather than in the throes of labor.
– Give you recommendations of the best hospitals locally, with a known record for helping mother's who want to have a natural childbirth.
They have watched and supported other women through their personal experiences with local hospitals and care providers. They can provide guidance in determining whether your wants and desires can be met in a specific location, or with a specific care provider.
It is also important to note, that our birth system is changing, slowly but surely, changing for the better. Many hospitals and OB's who were not "natural childbirth" experienced 2- 5 years ago, are very experienced today. This is due in part to awareness being spread on natural childbirth, women speaking up for what they want, Midwife knowledge and recognition, the movement back to home-birth, and also because of the positive presence of "natural childbirth" workers, such as Doula's, being present in the hospital birth place.
– Provide you with names of OBGYN's or CNM's whom they feel might meet your criteria in achieving the birth you want.
Again, they have watched and supported other women through their personal experiences with local hospitals and care providers. This gives you an idea of where to begin the "interview" process, as you search for the right OB or CNM, and the right birthing location for you and your personal desires.
– Give you resources to local natural childbirth / natural parenting groups within the community, where you can find support and build relationships with other women and families along the way.
Connecting with other "like-minded" women who have walked the path before you, or are currently going through their journey at the same time as you can be one of the most amazing blessings. Doula's have many connections within the natural birthing community. Everything from breastfeeding support, essential oils education, alternative medicine, chiropractors, massage therapists, natural practitioners, cranial sacral therapists, and so much more!
Below is a list of accumulated questions which I have found to be very helpful for my Doula client's to ask when "feeling out" a care provider, to see whether they can have their desired birth, while being under the care of that provider.
Already Have a Care Provider
You can take the questions which pertain to you from the list below, and Prioritize them according to which areas are of the greatest importance to you. Begin to ask a handful or two of those questions at each prenatal visit.
Do not shrug off responses which do not meet your qualifications. The list of available doctors is lengthy. Of course there is always going to be a give and take when choosing to birth in a hospital setting. So a certain amount of flexibility is often needed, but know going into the situation which items are your priority and are not subject to flexibility, and which ones you can take or leave.
Looking For a Care Provider
If you do not already have a care provider, or have made the decision to find a new one, you can request to do an initial interview with potential care providers. At this visit, go through your top questions first, and then have a second set should time allow.
In any circumstance, you should always listen to your care provider carefully. They will often tell you exactly how they expect your birth will be, even if it isn't with their specific words. Always use your intuition. If it simply doesn't feel right to you, then it mostly likely is not right for you.
Respectful & Attentive or "Red Flag"
Be aware of how the care provider responds to the question. Do they seem confident and knowledgeable? Is their response calm and collected? Is the tone warm and understanding? Did they not know how to respond? Did the care provide have no idea what you were talking about? Did the care provider seem agitated or respond defensively? Was your question put off… to be discussed at a later visit when you are "farther along?"
Don't be afraid to go after what you want. This is your baby and your birth!
~ Important Questions To Consider ~
Professionally
Why did you choose this profession and what makes it so important to you?
How long have you been a practicing _______? (OB, CNM)
What is your training / education / degrees / certifications, etc. ?
How many babies have you /witnessed / helped bring into this world?
What is your philosophy on birth?
What does "natural childbirth" mean to you?
Where do you personally stand between medically managed childbirth, and natural childbirth?
Are you connected with a natural childbirth / natural parenting community?
Do you provide individual care based on the needs of each patient, or is care carried out on a standard protocol regiment?
Have you had experience with a Doula before?
Which methods of pain management do you recommend?
Will I be expected to progress through my labor according to a specific timeline?
What is your induction rate?
What is your cesarean rate?
Have you ever performed a "Family Centered Cesarean?"
Is laboring in a water pool or bath tub an option? Delivery?
How many births do you typically attend to in a month? Year?
Are you planning any vacations, trips or other events around the time of my estimated due date that would interfere with your presence at my birth?
Who is your back-up? When would I meet them? Do you work off a rotation schedule with other care providers?
What kind of follow-up visits will we have with you after the birth?
Have you had any loss of a baby or mother? If so, why and what happened?
Pregnancy
What role do you feel nutrition and exercise play on a healthy pregnancy and the effect on the labor and birth process?
What are a few of the top nutritional recommendations you have for prenatal health?
Is there a set of routine tests which must be done during pregnancy? Which? When?
Will I be required to do the Gestational Diabetes screening? What if I do not have any symptoms of GD? How is this test carried out? Will I eat a specific meal prior to testing or will I be fasting and drinking a sweet orange substance?
How many weeks of pregnancy do you feel are crucial to having a healthy baby?
If baby and I are healthy, can we allow labor to begin on its own? Even 1 week past our estimated due date? 2 weeks past our estimated due date?
Will you deliver a breech baby? Frank? Footling?
If so, what kind of training and experience do you have in the delivery of a breech baby?
If my baby were to be breech, what recommendations would you have for encouraging my baby to turn naturally?
What medical options would be available to turn my baby?
Do you deliver twins? Experience? Cesarean necessary within your care?
What risk factors do you look for when determining if a cesarean section is needed, prior to labor beginning?
What is your stance on VBAC births? Will you allow a VBAC (vaginal birth after cesarean)? What kinds of procedures will I be subject to during my VBAC, that would not be standard had I not had a previous cesarean? Is a scheduled cesarean a requirement for you after a previous cesarean?
Labor and Birth
What are your recommendations for a family who wants to labor at home for as long as possible before coming to the hospital?
Do you require a heparin lock to be in place?
Will IV fluids be necessary during my labor or may I be allowed to drink freely on my own?
How often do you feel it is necessary to have a vaginal exam during labor? May I refuse these checks?
Are you familiar with other ways of determining dilation, besides vaginal exams?
What risk factors do you look for in determining whether a cesarean section is necessary while I am in labor?
How often will my baby be required to be monitored through Electronic Fetal Monitoring?
Will I able to labor in any position I feel comfortable? May I move around freely?
May I eat while I am laboring?
Can I push in any position I choose? May I deliver my baby in any position I choose?
Is directed pushing typically done, or will I be encouraged to push with the urges of my body?
Will you delivery my baby? Would you assist myself or my partner in delivering our baby?
Do you provide perennial support while pushing to minimize the possibility of tearing?
Do you perform routine episiotomies?
Would you be accepting of allowing me to tear naturally, rather than have an episiotomy?
How do you handle a nuchal cord?
What is your position on delayed cord clamping?
Immediately Postpartum
Will my baby be given directly to me for skin-to-skin contact immediately at birth?
Can routine checks of baby be done while my baby is in mine or my partners arms?
Which test and routine practices will be necessary in the first few hours of birth (for myself? for my baby?). Can these procedures be delayed until after we have had several hours of uninterrupted bonding time as a family?
Which will be necessary in the first few days of birth? And the first few weeks of birth?
Does your practice / hospital have any standard procedures for families who desire to take their placentas home with them?
Will it be necessary for my placenta to be taken from my room for examination, or can the examination process be completed within my room?
Can I refuse to have my placenta washed, chemically rinsed, or pumped full of a preservative such as formaldehyde?
Is it possible to fill out the paperwork needed to accept or decline certain routine procedures for my baby, before being in labor and before baby is born? That way our time immediately after the birth can be focused on bonding and welcoming our new little one into the world.
How long will we be expected to stay in the hospital before being released?
Will my baby have to go to the nursery during our stay, or can my baby remain with me for the duration of our stay?
How long will it be necessary for us to stay in the hospital after our birth, before we can be released to go home?