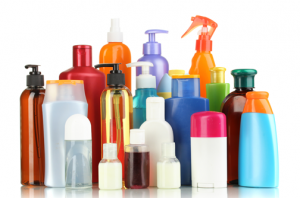 We are often not aware of what all of those difficult to pronounce "ingredients" are on the label of our favorite hygiene products. They make us "feel" clean, "smell" nice, and carry confidence in how we "look" to those around us.Years and years of use, and we may find ourselves being one of those people we here about, who was just diagnose with cancer, is no longer able to have children, who's child was born with a very serious or life threatening birth defect, or the person who is in the beginning stages of Alzheimer's, among numerous other decline health problems. Then comes the realization that we have actually spend years and years of our time and money on purchasing toxic chemicals to slowly deteriorate our bodies, in an attempt to feel, smell, and look our best.
Making it a point now, to become informed about the truths of the toxins we intentionally expose ourselves and our children to daily, and begin to slowly remove them from our daily routines and habits. Learn what they are, what their role and function is in our products, which of our products they can be found in, and what health related concerns they are associated with.
On the journey to becoming "green" we also can learn what "natural" alternatives we have in making better choices for ourselves and our families, and taking back control of our long term health and vitality.
Below is a list of the top 10 chemicals found in our every day hygiene products which we can begin to eliminate immediately! Alternatives are purchasing organic products from health and wellness stores, or simply making your own homemade products with the use of things like coconut oil and essential oils.
1) SODIUM LAURYL SULFATE (SLS)
SODIUM LAURETH SULFATE (SLES)
2) AMMONIUM LAURYL SULFATE (ALS)
AMMONIUM LAURETH SULFATE (ALES)
Function:
Surfactant
Penetration enhancer
Helps to create lather
Present in:
Cosmetics
Shampoo
Mouthwash
Toothpaste
Various other personal care products
Health concerns:
Alters skin structure
Allows other chemicals to penetrate deep into the skin, inhibiting the skins ability protect
Makes it easier for other chemicals that reach the bloodstream
Irritant
Studies show strong negative effects on sensory organs
3) PARABENS (METHYL, ETHYL, PROPYL AND BUTYL)
Function:
Preservative
Anti-bacterial agent
Present in:
Cosmetics
Various other personal care products
Health concerns:
Alters hormone levels
Increases risk for certain types of cancer
Impairs fertility
Alteration of the development of a fetus or young child
Studies have found parabens in breast tumors
Probable skin toxicant
Studies show negative effects on the brain and nervous system
4) THE THREE T's
TRICLOSAN

(derivative of agent orange) (1% of 1 billion is highly toxic)
Function:
Anti-bacterial agent
Deodorant
Preservative
Biocide
Reduces and controls bacterial contamination on the hands and on treated products
Present in:
Antibacterial soaps
Hand sanitizer
Deodorants,
Toothpastes
Mouthwashes
Face wash
Various cleaning supplies
Restricted in Japan and Canada.
Health concerns:
Endocrine disrupter
Carcinogen; easily bio-accumulates to dangerous levels
Irritant
Studies show reproductive and other broad systematic effects
Potentially contaminated with impurities linked to cancer and other significant health problems
Studies have shown it can actually induce cell death when used in mouth washes
Scientists believe the run off down drains, into bodies of water and soil is one of the main causes for the proliferation of super bugs.
Function:
Antioxidant
Solvent to improve adhesion and gloss
Present in:
Nail polish
Hair dye
Health concerns:
Highly toxic to liver and lungs
Developmental, nervous system and respiratory toxin
Cardiovascular, musculoskeletal, renal and sense organ toxin
Carcinogen and reproductive toxin
Irritant
Highly flammable
Function:
Absorbs moisture
Anti-caking agent
Bulking agent
Present in:
Blush
All forms of powder, including baby powder
Eye shadow
Deodorant
Health concerns:
Carcinogen
Linked to ovarian cancer
Talc particles are similar to asbestos particles
Respiratory Toxin
Data suggests that it can cause tumors in the lungs
5) PROPYLENE GLYCOL (main ingredient in anti-freeze!)
Function:
Solvent – wetting substance
Penetration enhancer
Conditions the skin
Controls viscosity
Keeps products from melting in high, or freezing in low, temps
Present in:
Cosmetics
Shampoo / conditioner
Toothpaste
Numerous personal care products
Some packaged foods
Ice cream – prevents ice crystals
Artificial sweeteners – humectant, preserving moisture, preventing mold and bacteria from developing
Icing / Frosting – alginate, causing your icing to foam
Health concerns:
Alters skin structure, allowing other chemicals to penetrate deep into the skin
Increase in the amount of other chemicals that reach the bloodstream
Studies show:
negative reproductive effects
Positive mutation results
Brain and nervous system effects
Endocrine disruption
6) OXYBENZONE (BENZPENONE-3) (product name, followed by neg (-) / pound (#) sign = synthetic)
Function:
Sunscreen Agent
Ultraviolet Light Absorber
UV Absorber
UV Filter
Present in:
Sunscreens
Makeup
Health concerns:
Associated with photoallergic reactions
Immunotoxicity
Carcinogen
Endocrine disrupter
Enhanced skin absorption and bioaccumulates to dangerous levels
Biochemical cellular changes
Developmental and reproductive toxicity
Found in breastmilk
7) LEAD and LEAD COMPOUNDS
Function:
Colorant
Present in:
Hair products – dye
Found in 60% of lipsticks (but it won't be on the label)
Restricted in Canada
Health concerns:
Carcinogen
Developmental, respiratory, gastrointestinal and reproductive toxicant
Reduced fertility
Studies show metabolic, brain and nervous system effects
Suspected nano-scale ingredients with potential to absorb into the skin
8) ALUMINUM ZIRCONIUM and OTHER ALUMINUM COMPOUNDS
Function:
Used to control sweat and odor in the underarms by slowing down the production of sweat
Present in:
Antiperspirants
Banned by EU
Health concerns:
Linked to the development of Alzheimer's Disease
May be linked to breast cancer
Neurotoxin
Nervous system, respiratory, and developmental toxin
9) PETROLEUM (PETROLATUM)
Function:
Forms barrier on skin
Makes lipsticks shine
Creams smoother
Inexpensive skin softener
Present in:
Cosmetics
Mineral oil
Baby oil
Lip care
Banned by EU
Health concerns:
May be contaminated with impurities
Linked to cancer or other significant health problems
Softens skin while damaging it in the process
10) PHTHALATES (DIBUTYL PHTHALATES)

Function:
Fragrance ingredient (labeled as "fragrance" or "parfum")
Plasticizer (this chemical will actually soften plastics)
Solvent
Present in:
Numerous cosmetics
Various personal care products (including scented feminine hygiene products)
Banned in EU.
Health concerns:
Immune system toxicant
Developmental and reproductive toxin
Associated with kidney failure
Respiratory toxicant
Probable neurotoxin
Carcinogen
Endocrine disruptor
Bio-accumulative in wildlife
Reference Resources and additional Readers